Everyday Things Bamboo Hairbrush
Regular price

Sale price

$16.95 NZD

Unit price

per
Everyday Things Bamboo Hairbrush is made with two 100% biodegradable materials: Bamboo and Natural Rubber. Simple.

Anti-static

Anti-bacterial

Gently massages and stimulates the scalp

Improves blood circulation
Evenly distributes natural oils from your scalp
Great for detangling
Can be used on wet or dry hair

Available in three sizes: small, medium or large
Comes in a beautiful packaging
Size
Small Brush - 17cm Long x 5cm wide
Medium Brush 22.5cm long x 7cm wide
Large Brush 25.5cm long x 8.4cm wide
Why use Bamboo products?
Bamboo is a 100% natural renewable resource
Bamboo is the fastest growing plant on earth. It grows back within a few months and to full size in 3 years vs. regular trees that can take 25 years
Bamboo is farmed vs. Wood comes from cutting forests, damaging to the environment, habitat, and contributing to global warming
Bamboo grows naturally without using any pesticides or fertilizers
Bamboo is 100% biodegradable
Bamboo is an eco-friendly alternative to wooden hairbrush
Share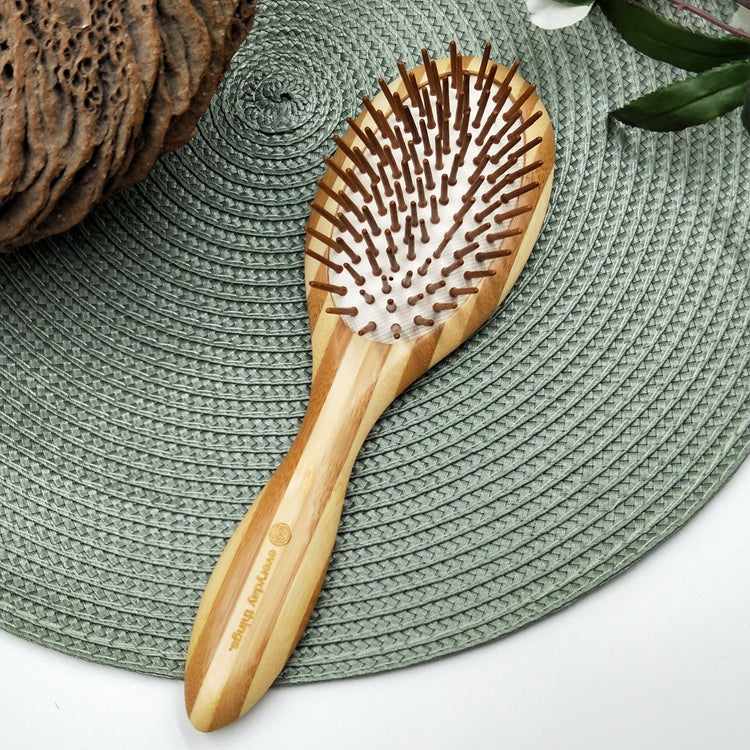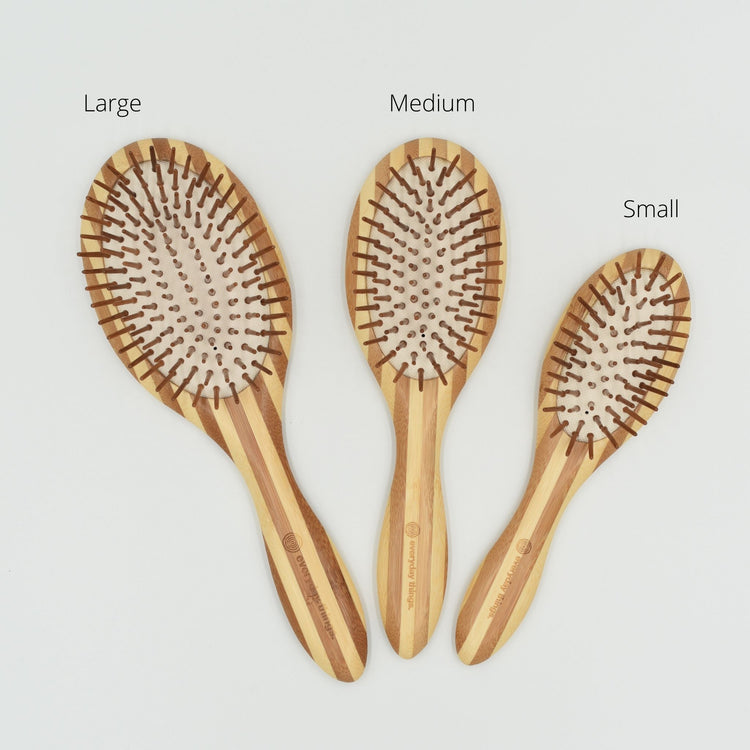 Bamboo hair brush
Love the brush. Great for untangling hair. Very good service. Highly recommended
Best hair brush ever!
Best brush ever for fine thinning hair. Love using it as gentle on scalp! Great quality ..... will hopefully last me to the end.
Fantastic Bamboo Hair Brush
This has to be my favourite hairbrush! It leaves my hair feeling soft and strong.
The brush also feels like it is massaging my scalp. I love this bamboo brush as it detangles with out damaging the hair as much.
Awesome brush
This was better than I expected. Great for baby's scalp. Although it looks like it might hurt, it massages nicely and certainly does not hurt - she stops and lets us brush her hair with no issue at all. Grandad even wanted one instead of his old plastic brush - said it was very good for his scalp - win win! Highly recommend.
Small Bamboo Brush
Very well made and good quality. Perfect for travel. Also received excellent customer service, can highly recommend.